---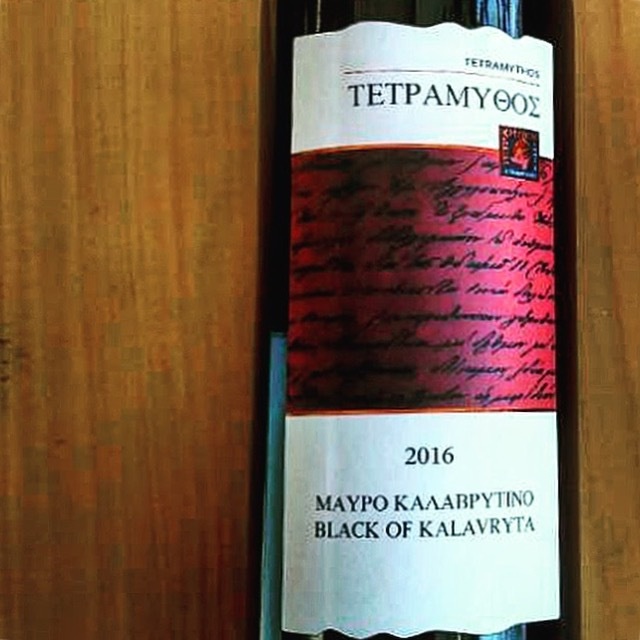 Tetramythos Achaia Black of Kalavryta 2016
---
About a year and a half ago I was on a wine trip to Greece. We covered a lot of beautiful ground (and ocean) and tasted a lot of great wine, some old friends and some new finds. 
This wine is one of those new finds. 
It's from Tetramythos, a winery located in the northern Peloponnese, run by the brothers Spanos with winemaker Panagiotis Papagiannopoulos. Farming is organic (about 80% of the grapes grown in this area fit that description – the highest percentage in Greece) and winemaking plays around with wild yeast fermentations, amphora aging, and some really excellent restina (no, that is not a typo, but more on that another week.)
So back to the wine trip… there was a lot of time spent on the bus (there's always a lot of time spent on a bus), covering all that beautiful ground. And quite often, favorite bottles from the day's tasting found their way onto that bus. Like this one. We had quite a few bottles of this one.
And what is this one? It's made from an oddly-named grape – Black of Kalavryta – which was headed toward extinction until the Tetramythos gang set it back on track. It's unique to the region of Achaia (if you're wondering why that word is on the label) and for the grape geeks among you (I know you're out there), Markus Stolz notes on his excellent site, Elloinos, that it's thin skinned, with a low concentration of the color-giving anthocyanins and a tendency to structured tannins and high acidity. Which means you wine that can pack quite the sneaky punch while being almost deceptively light in color. 
I'm always making comparisons, so I like to think of this wine as "Greek Beaujolais" - fruit driven, but with a snappy, lip-smacking, "crunchy" character. Dark fruit, a tiny touch of earth, great with a touch of a chill. And like all the Tetramythos wines we stock, excellent value. 
Peloponnese, Greece
Black of Kalavryta